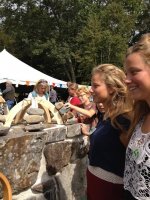 "Our approach to creativity at Watershed is about learning a process which can be applied to many different projects," Tom Weis, design instructor at the Watershed School and part-time faculty at Rhode Island School of Design, said.
Watershed School, Midcoast Maine's independent high school, exhibited their students' inventions at the first Midcoast Mini Maker Faire in the Camden Amphitheater the weekend of September 6th. The displays included handmade longboards, gel medium transfers, and a 3D printer.  
The longboards, skateboards built for down-hill and slalom racing, as well as low impact transport, were completed at the end of the spring 2013 semester. The process of building the boards included moulding a 7 layer maple veneer, creating the overall shape, laminating, cutting, and sanding. The students were then asked to design a "contemporary coat of arms" to paint onto the piece. 
During the fall 2013 semester, a number of the former design students will begin an introductory engineering course in which they will learn to use the 3D printer and apply some of the skills they learned while working on the boards.
Students were proud to share their work with the public. Louisa Crane, a Junior at the Watershed School, commented, "Sharing some of what we do here at Watershed was a good way to get out in the community and start off the school year." 
The Watershed School is located at 32 Washington Street, Camden, Maine. For more information about the design program and innovation at Watershed School, visit the website at watershed-school.org or call (207) 230-7341.