Feb 28, 2016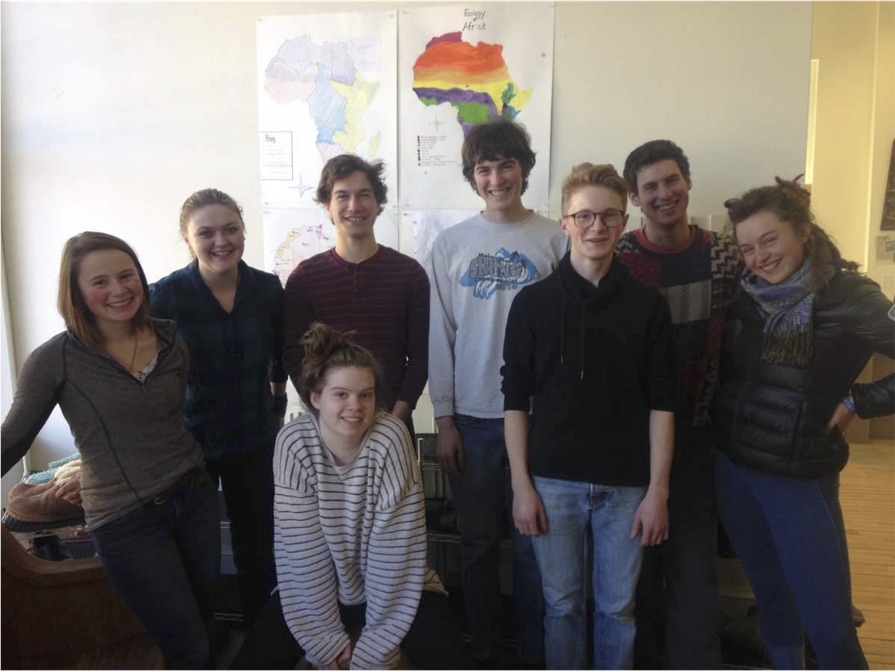 Watershed students, from left, Laurel Brooks, Leslie Rya, Emma Faunce, Soren Moesswilde, Jesse Dunn, Jerin Brooks, Jesse Snider, Ella Simon participate in the recent Camden Conference.
CAMDEN —Watershed School seniors Laurel Brooks, Jerin Brooks, Jesse Dunn, Emma Faunce, Soren Moesswilde, Leslie Ryan, Ella Simon and Jesse Snider are currently engaged in a unique academic program offered each year at the school which culminates in their attendance at the Camden Conference, an international affairs conference held each year at the Camden Opera House.
This year's conference, titled The New Africa, spanned three days and sought to explore the extent to which Africa is on the verge of a resurgence in its role in geoeconomics and geopolitics. The students, along with students from 11 other high schools around Maine, attended the three-day event.
Each year at Watershed, seniors spend the six months prior to the conference immersed in a study of that year's topic. As a capstone event to their four years at the school, students apply the foundational skills central to its curriculum which include: developing questioning techniques, working with primary source documents, engaging in discourse, and analytically writing about their findings. Their goal was to answer the overarching essential question: To what extent is the dominant western narrative of Africa accurate and how can we challenge that narrative?
This year, the students took on the daunting task of studying Africa in its entirety, both in its historical context and in the modern context. Beginning with a student-created classroom set of maps, which focused on the modern political boundaries, regionalization, climate and geography, the students worked to contextualize the ways in which Africa has developed and has been manipulated by outside forces. The students then decided that working with each region individually would ultimately be more effective, and therefore broke the course into units which focused on North Africa, West Africa, Central Africa, Eastern Africa and Southern Africa. Within each unit, students were responsible for identifying the dominant narrative of each nation and to then seeking sources that challenged that narrative.
Watershed owes a debt of gratitude to guest speakers Andrew Stancioff, Messan Jordan Benissan, Pete Kalajian, Heather Kashner and Phil Gerard. As community members who have lived in different regions of Africa, they provided students a richer and deeper understanding of their perception of Africa. This also gave students the opportunity to recognize the extent to which our paradigm filters our perception, particularly because each speaker was careful to recognize the limits of his or her understanding of African realities.
Additionally, students attended community events, participated fully in discussions and presentations, and were required to choose a book to read from the Camden Conference reading list. The resources provided by the Conference serve to enrich the course and provide further depth to the curriculum. The goal, beyond answering the essential question, was to have students attend the conference well informed and ready to engage.
As this senior seminar course evolves, Watershed School hopes to expand the program to include other students in the Midcoast area and from other high schools throughout the state. Plans for the 2017 conference include an event specifically designed for high school students to share questions, thoughts and reactions to these critical and daunting global issues.
Source: VillageSoup