Graduation Projects
Each spring, Watershed Seniors design and complete a semester-long graduation project.
  This culminating event at Watershed School is an opportunity for students to demonstrate mastery of the skills and understanding gained during their high school years, and as such is a mark of passage to adult life.  Students may pose an essential question, such as "What is Community?" or "What is Art?" or "What is Freedom?" Or they may pose a more focused question within a particular discipline.  They answer their question through research and creative work that may include travel, internships, or product design.  Two weeks before graduation, seniors make a final and formal presention to the friends, faculty, and families of Watershed School.
A completed Graduation Project at the Watershed School integrates the following essential components:
A written thesis (required).
A formal presentation (required).
A product, internship, or experience stemming from their research (optional).
Examples of Graduation Projects from the past include-
•Eliot Low: The History and Science of Powered Flight
•Heather Dumond: Young Adult Literature: Where it Began and What it Remains
•Nathan Hillman: Music Expression: Digital to Analog
•Hunter Schade: Changes in American Fire Service Protocol
•Sophie Davis: Tango in Buenos Aires: The Myths, Fact, and Origins of a Cultural Identity
•Colin Shott: The Political History of Modern Iran
Others in more detail include-
Danji Buck-Moore:  Musical Composition
Danji composed and arranged a contemporary piece of music and premiered it with Watershed students as performers. Danji's composition, titled Four Dimensions, is scored for Fender Rhodes, viola, violin, and tenor sax. There was a standing ovation for the performance at St. Peter's Church, in Rockland.
Weaving classical themes with salsa rhythms, Danji's work echoed various musical traditions and genres in a manner both accessible and intellectually interesting. "I just wanted to explore the music that I am drawn to," explained Danji as he showed his score to the audience. The score was written using modern composition software. 
Listen to Danji's composition here.
Lilly Whitehead: Timeless fashion design and construction
Lilly has been playing with fabric and clothing for many years, but with this project, she ramped up her efforts to understand what makes a something "timeless" in clothing design. She spent a great deal of effort looking back throughout fashion history to see if she could identify themes that keep popping up over the years. Eventually, she identified several types of garment that have been modified little over the years, and working from those, designed her own set of classic pieces, including a vest, a shirt, and a formal dress. Her craftsmanship is evident in every stitch.
Lizzy Moore: Design and Construction of an Electric Violin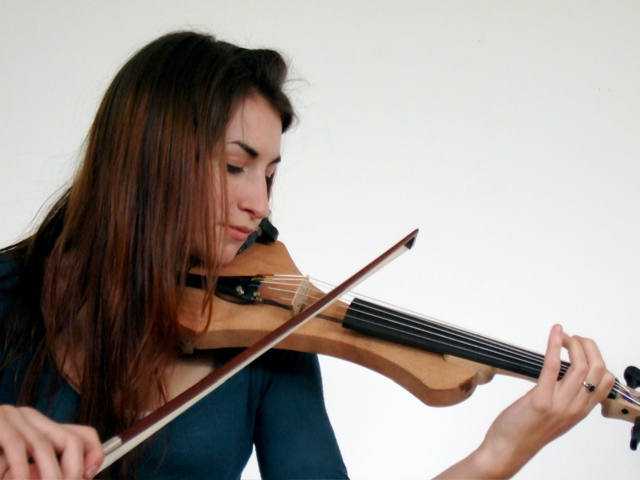 Lizzy brought her incredible intensity and focus to the design and construction of an electric violin. Lizzy had to learn a whole new set of skills to pull off this project including scale drawing, power tool use, and instrument acoustics. The finished product is remarkable for its striking visual appeal as well as its sonorous quality. The instrument is the real embodiment of what this senior project idea is all about: a focused stretch to increase knowledge and skill.
Katy Dodge: Traditional Pottery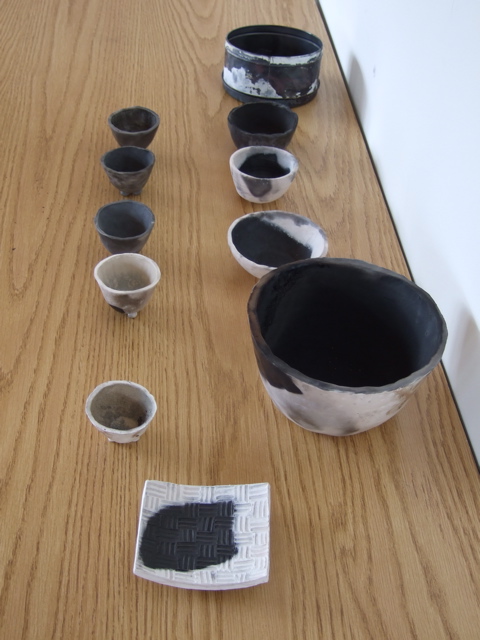 Katy worked with Watershed faculty member Sherry Fraser on a set of very interesting clay pieces that were fired using an age old, open-firing technique.
Inspired by the craft of indigenous potter Maria Martinez of San Ildefonso Pueblo, Katy experimented with pinch pot, coil-pot forms, glazing, burnishing, and pit-fired ceramics. She created clay body and glazes, experimented with saggar-firing, and conducted test firings.
In addition to the completed ceramic wares, Katy wrote a paper detailing her research and experiences.
Sam Perkins: Small Boat Voyage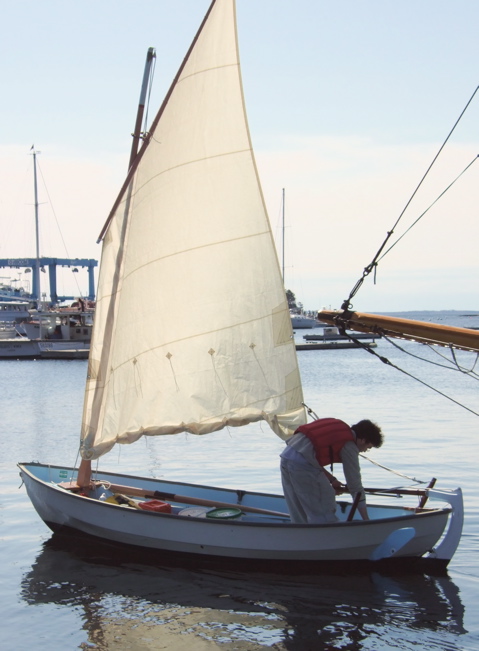 Sam Perkins decided to follow in his father's footsteps (dad's a Coast Guard Officer) and go sailing. He planned and executed a four-day-long spring voyage in the Weedabob, beloved craft of Watershed Faculty member Pete Kalajian.
Sam treated the audience to a gripping tale of harrowing adventure in strong winds and challenging weather conditions. To anyone familiar with the waters of Penobscot Bay, a May voyage in a 15′ long open sailing boat is bound to be a real adventure, and Sam's fit the bill: anchor dragging, double reefing, hard beats, rain.
Sam wrote a paper about the voyage, but long after the paper is a faded yellow document, this trip will still be etched on Sam's memory as one of the great coming of age stories.
Our Goals for Graduates:
• Demonstrate an excellent grounding in academics,
• Qualify for a college of their choice,
• Be able to work effectively with others,
• Communicate clearly,
• Pursue their own goals and take responsibility for their actions,
• Care for their health and physical fitness,
• Take initiative and recognize their ability to make a positive contribution to their community,
• Recognize complexities and interrelationships in society and nature,
• Possess practical skills,
• Be optimistic, curious, and confident young adults, and
• Have a strong affection for their school.